7/02/2016
Backstage meet and greet With Eddy Van Halen at the Hollywood Bowl.
02/22/2015
Check out the recent interview podcast I did for DissidentScience.com with David de Hilster. We discussed the song and score I composed for his Documentary film "Einsteing Wrong - The Miracle Year"
8/14/14
A break in the action! Engineer/Producer Paul Northfield joined the family for dinner out in Santa Monica, CA. Here I am with my son, Vincent, Paul, and Dean Pleasants from Suicidal Tendencies. Paul was in town working on the new Suicidal album and also Dean's solo album!! Great night bending Paul's ear about working with Rush!
8/14/14
Backstage at the Ink & Iron show at the Queen Mary in Long Beach with Dean Pleasants and Nico Santora from Suicidal Tendencies.
8/13/14
On the Red Carpet at the 7th annual Brazilian Summer Beauty Pageant for charity in Redondo Beach with: l-r: singer Kayla Cristina, pageant Director Valeria Ruggieri, Michael Ruggieri, Miss Latina Global 2013 Gigi Xochitl, and Pageant Judge Chairperson Juan Medina Vargas.
8/12/14
In light of the passing of Robin Williams, I did a quick recording and home video shoot of Pink Floyd's Wish You Were Here. May he RIP and find his burdens released.
12/01/13
Just finished up composing the score for the upcoming documentary, Einstein Wrong - The Miracle Year by David de Hilster. Premier screening is this Saturday, December 7th at the Arts Theater in Long Beach, CA. 9 - midnight.
For more information go to https://www.facebook.com/einsteinwrong and get your free tickets!
11/11/2013
Some photo's from my recording sessions at Titan Music Studios in Sherman Oaks. I was in the studio recording my original song "The Miracle Year" for the upcoming film "Einstein Wrong - The Miracle Year" by David de Hilster. We also recorded our version of Ingrid Michaelson's "The Way I Am" which will be included in the film.

Pictured below: # 1 - Me with vocalist Kayla Trindade. #2 - Me, Kayla Trindade and director David de Hilster. # 3 - Me and musician Herman Jackson.

A December release is scheduled, stay tuned to hear the tracks!!!
08/30/13
Michael with Actor/Producer Christian Meoli and Producer JC Spink.
02/18/2013
Performing Sound & Vision with Beck for the Lincoln, Hello Again project at 20 Century Fox Studios in Los Angeles.
02/08/13
With legendary arranger-composer-conductor David Campbell, after the Beck gig.
02/08/13
Cool Behind the Scenes video of the project I was involved in this past week with Beck and David Campbell.
02/01/13
Very excited to be asked to play in this amazing and ambitious production by BECK. Thanks to Sambala Samba School and RioBela Productions.
9/13/12
With my friend, Fox 11 Evening News anchor Christine Devine, at local charity event fundraiser.
9/11/12
Me with Brazilian Actor and Musician, Fabio Keldani, at Brazilian Day Los Angeles.
6/06/12
I am very excited that I have been added to the list of performers at this fundraising event on June 16th in Long Beach. I will be joined by Dennis Wilson on guitar! The event is on Saturday, June 16th from 3pm to 10pm. Event Details
05/31/12
One of my songs, 7 Days, was used in the trailer for the upcoming documentary, "Einstein Wrong, The Miracle Year" by David de Hilster. Song starts at the 2:49 mark.
12/11/11
Here is my latest song MEXICO. This is the FIRST recording from my home project studio? Hope you enjoy! Thank you and Happy Holidays.... (click the link below to download the mp3)
10/3/11
Yesterday was the first Official day spent recording in my home studio. It is now workable but of course a work in progess!
9/30/11
Was down at Fernandes Guitars today with Dean and Tim from Suicidal Tendencies. Thanks Dean and Andres for hooking me up with a one of a kind Fernandes Prototype Guitar.
9/14/2011
08/03/11
Official trailer of the 2011 Brazilian Summer Beauty Pageant featuring Michael Ruggieri's acoustic version of Girl From Ipanema. The pageant is 8/13/11 at Samba Brazilian Steakhouse in Redondo Beach. Michael is performing for the opening choreography with Dennis Wilson on pandeiro.
__________________________________________________________________________________
08/03/11
Michael Ruggieri interview with Brazilian Summer Beauty 2010 winner, Kafi Battersby about his involvement with the Pageant as a member of the board of directors and about his version of Girl From Ipanema which has become the pageant theme song.
8/02/2010
I will be performing again this year, so please come out to see all the Beautiful Girls at the 3rd Annual Brazilian Summer Beauty Pageant on Saturday, August 28th at Samba Brazilian Steakhouse in Redondo Beach.
A fun filled evening featuring some of the most beautiful girls in Southern California competing for the crown of Miss Brazilian Summer Beauty. Live music, DJ, Brazilian food, Caipirinhas with all proceeds going to charity!!
This year's donation will go to Self-Enlightenment Institute to help them continue their work in Brazil with Brazilian orphanages and HIV institutions, as well as children in Tijuana, Mexico and the homeless in Downtown LA once a month.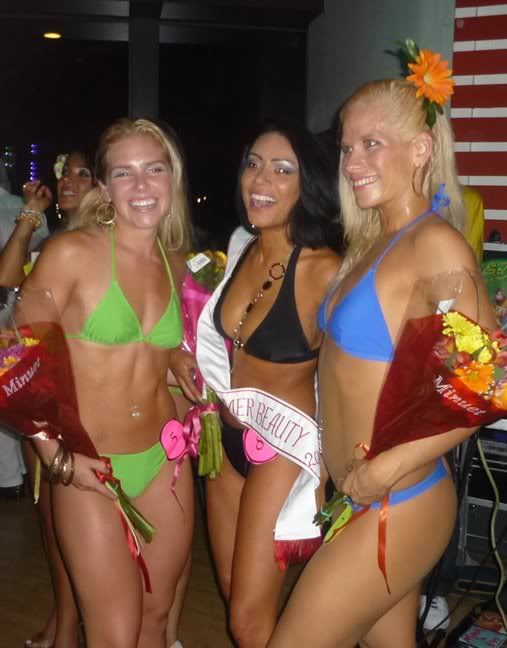 08/02/2010
Italy's 2010 World Cup flop is over and it's time to start thinking about winning it in Brazil!!!
1/25/2010
My songs Survive and Drowning me have been chosen by DJ Zack Daggy to be in Episode 170 and Episode 171 from www.mothpod.com. DJ Zack Daggy's Mothpod features the hottest independent artists throughout the country. Check it out and support Mothpod!! Also please check out episode 169 and listen to my great friend and amazingly talented singer/songwriter Michael J.
8/26/2009
I will be opening the show for Pepeu Gomes, a Brazilian artist who was rated one of the top ten guitarists in the genre of World/Latin Music. I will be joined by Dean Pleasants (Suicidal Tendencies/Infectious Grooves) on guitar. This Saturday, 8/29/2009 at 9 PM at the Rhythm Lounge in downtown Long Beach. CLICK HERE for more information.
08/12/2009
I am performing my version of "Girl From Ipanema" for the 2009 Brazilian Summer Beauty Pageant, hosted by RioBela Productions on Friday, August 21st (see calendar).
For more info go to www.riobela.com
The pageant proceeds will be donated to charity in support with World Vision to support the children of Brazil.
Here are the contestants.
7/23/2009
Come visit me on Facebook.
9/28/2008
Come see me open the 12th Annual Long Beach Brazilian Carnaval presented by Sambala Samba School and RioBela Productions: Sunday, Sept 28th Noon til 8 PM the Blue Cafe, 210 promenade north, Long Beach, CA 90802 Tickets are $20 advance/ $25 at the door. All Ages so bring your kids to march in the Carnaval Parade!! for more info: www.riobela.com or www.carnaval.org
8/30/2008
I just finished the demo for a special recording of The Girl from Ipanema, by Antonio Carlos Jobim & Vinícius de Moraes (Norman Gimbel). The band is rehearsing now to record the song in time for The Long Beach Brazilian Carnaval, September 28th. We will be opening the event with the song. HOpe to see you there.
7/15/2008
I will be playing for the Brazilian Summer Beauty Swimsuit contest, presented by RioBela Productions, on Aug 2, 2008 at the Blue Cafe in Long Beach, CA. I will be singing my first ever song in Portugeuse and I will be accompanied by Jason Phillips on the guitar. Come on out and see all the beautiful girls and dance to Sambala Samba School. Show starts at 8:30 pm.

February 2, 2008
Please come out to the RioJoes Carnaval Ball put on by Samba Pros (RioBela Productions and SambaLa Samba School)Saturday, February 2nd. I will be playing in the SambaLa Bateria!!! It gives me the best view in the house!! See ya in Long Beach at the Vault! See flyer for details.
12/28/2007
Happy Holidays everybody. May the love and light be shining on you in this wonderous Holiday Season... 2008 promises to be very active for me as I am launching some new songs and shows...Stay tuned...
8/31/2007
Come out on September 15th for my official CD Release and also help me celebrate my birthday! Great Samba night after with Sambala Samba School.
7/22/2007
Come on out this friday, July 27th to the Rhythm Lounge for Brazilian Night. My band is opening the show at 10 PM. J.J. Brown is sitting in on lead guitar with Dean Pleasants on bass and Michael Sandovol on drums. Go to my calendar page for details.
6/3/2007
Welcome to my brand new website!! Take a look around and let me know what you think. You can leave comments on my contact page. Please sign up for my email list so I can keep you posted on upcoming shows. I am auditioning new bass players since Dean is out on the road with Suicidal Tendencies for the summer, so we will be back with some shows shortly... peace, Michael
3/30/2007
Thanks to everybody for coming out to UBG for our debut gig.....I can't tell you how great it felt to be jamming with the band to a very receptive crowd....
4/5/2007
Please join me this Saturday night as I open for Delta Nove and G Tonic at the Blue Cafe in Long Beach. Show starts at 9 PM. Also upstairs in the blue room is Samba La Samba School with Lula Almeida. It will be an amazing evening.